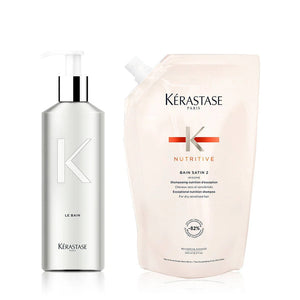 Nutritive Reusable Bottle & Hydrating Shampoo Refill
This hydrating shampoo gently cleanses and nourishes normal to dry hair with an energetic boost of nutrition. Formulated with Irisome complex and Glucose proteins to replenish the fiber and protect hair from drying out, Bain Satin 2 shampoo is perfect for replenishing fibers from root to tip, leaving hair feeling hydrated, soft, and supple with enhanced shine.
Note:
 Aluminum bottle does not contain product.
The future of luxury is sustainable. Now you can upgrade your favorite shampoo to a new, reusable format that cuts down on the plastic waste that comes with regular shampoo bottles.
Our reusable luxury shampoo bottles are made from 100% recycled aluminum and come in a variety of colors to match the shampoo of your choice.
Plus, our new shampoo refill pouches are made with 82% less plastic* for less plastic waste and available in five of best-selling product ranges.