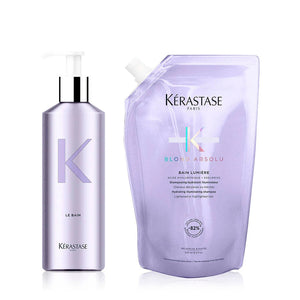 Blond Absolu Reusable Bottle & Blonde Care Shampoo Refill
This illuminating shampoo gently cleanses and hydrates lightened and blonde hair for a glowing shine. Formulated with Hyaluronic Acid to strengthen the hair fiber from within and to resurface the outer hair cuticle, Bain Lumiere shampoo deeply hydrates blonde and lightened hair for a light feeling and illuminated natural shine.
Note:
 Aluminum bottle does not contain product.
The future of luxury is sustainable. Now you can upgrade your favorite shampoo to a new, reusable format that cuts down on the plastic waste that comes with regular shampoo bottles.
Our reusable luxury shampoo bottles are made from 100% recycled aluminum and come in a variety of colors to match the shampoo of your choice.
Plus, our new shampoo refill pouches are made with 82% less plastic* for less plastic waste and available in five of best-selling product ranges.