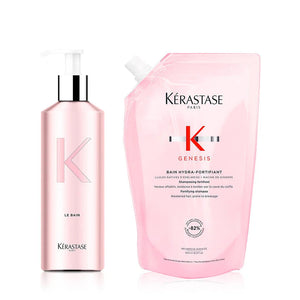 Genesis Reusable Bottle & Fortifying Oily Hair Shampoo Refill
This fortifying shampoo gently cleanses the hair and scalp to remove excess oil and strengthens weakened hair. Bain Hydra-Fortifiant shampoo provides 80% less hair-fall due to breakage from brushing*. Formulated with Edelweiss Native Cells and Ginger Root to provide immediate strength, softness, detangling, and moisture, this fortifying shampoo is perfect for normal to oily hair searching for more strength and less breakage due to brushing.
Note:
 Aluminum bottle does not contain product.
The future of luxury is sustainable. Now you can upgrade your favorite shampoo to a new, reusable format that cuts down on the plastic waste that comes with regular shampoo bottles.
Our reusable luxury shampoo bottles are made from 100% recycled aluminum and come in a variety of colors to match the shampoo of your choice.
Plus, our new shampoo refill pouches are made with 82% less plastic* for less plastic waste and available in five of best-selling product ranges.